Valentine's Day is a tough one for men and women. There's a lot of pressure on to buy your partner something romantic, yet actually worth having! It may have seemed easier in the first few years of a relationship, when romance was constantly in the air and a love note or a rose would do. But if you've been together a while, you want something personal, fun or useful.
What better than food! Everyone loves it, and these days there's no need to resort to the standard box of chocolates – there are some really great alternatives that'll really spark excitement on Valentine's day.
Who ever you are and whichever decade you grew up in, you'll know the sweets from your childhood that can bring back fantastic memories. A Quarter Of feeds this nostalgia with sweets from every era, providing huge gift boxes organised by decade.
If there's a specific product your partner loved, why not get a personalised bucket of their favourites. A Quarter Of even have a Valentine's gift ideas section and a section for ideas for men, always difficult to buy for.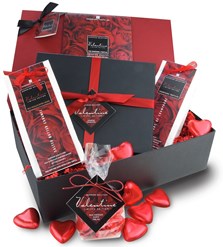 If you fancy something a little more classy, try the Chocolate Trading Company. They stock a huge variety of chocolate-related gifts, from traditional romantic boxes, chocolate bars, novelty sweets, gourmet chocolate and champagne. They also offer a free personalised message with each chocolate gift order.
If your partner is a bit of a chef, why not get some unique and high quality chocolate decorations and ingredients. Or even better – make it yourself! The Chocolate Trading Company provides recipes on their website so you can treat your partner to something really romantic.
If you want to get out of the house and spend time with your partner on Valentine's Day, why not check out Red Letter Days for some of the best foodie experiences. Try Sushi Making with Yo! Sushi for Two or a Five-course Dinner Tasting Menu at Gordon Ramsey's Maze.
There is a huge variety of meals and cookery courses on the site, which could really make this Valentine's Day one to remember.